Pecos Bill Tall Tale Inn and Cafe
Located in Frontierland, Pecos Bill's is the best burger to be found in Magic Kingdom (in my opinion at least)!  You can find this cafe near Country Bear Jamboree and you have many burger choices including a scrumptious veggie burger!
Once you choose your burger and get your order you can head over to the Fixins Bar to pile on the cheese and veggies to your liking!
Topping choices range from condiments like ketchup, mustard, and bbq sauce to nacho cheese sauce, lettuce, tomatoes, sauteed mushrooms, onions, peppers, and jalapenos! You will be sure to leave stuffed at the Tall Tale Inn!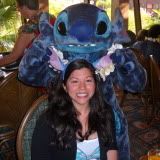 Melissa has created Chip & Company's 'Guide to Walt Disney World: Restaurant & Snack Options' posts as well as chronicling her Disney baking (and cooking) exploits In the Kitchen. She also writes original articles about her experiences visiting Walt Disney World and finding Disney magic in her home state of New York. Melissa is a World History teacher and you can find her on tumblr. Oh & you should probably know she believes in fairytales.