Cinderella's Royal Table
Cinderella's Royal Table is the most coveted advanced dining reservation in all of Walt Disney World- and for good reason! This table service restaurant is located in Cinderella's Castle in Magic Kingdom's Fantasyland and is hosted by the princess herself!
Upon entering you are ushered into an area to have a meet and greet with Cinderella and get pictures taken (which you get in a cute folder before you leave in 8×10 and 2 4x6s… plus you can order any other shots taken through the photopass system). The interior design of the castle is regal and fit for a Disney princess.  And in true Disney style, there are fun touches everywhere.  My fav… Gus and Jacques up in the rafters!
You are then lead upstairs to where you are seated.  We had dinner here and got a nice view of Magic Kingdom out of the stained glass window we were seated next to.  My pictures do not do it justice.  Another cute touch was that the hostess gave my husband a sword and me a Magic Wand that are most likely meant for children who eat here.  They really went above and beyond here.
Our dinner here was divine.  Choices include prime rib, salmon, duck, lamb, and a vegetarian tortellini dish.  The dinner is a package so besides your entree you also get a choice of  desserts (including sorbet, chocolate mousse, or a vanilla custard topped with caramel creme).  The lunch menu is similar, but with slightly smaller portions and a slightly smaller price.
If you chose to go for the breakfast here you MUST book your ADR at the earliest possible time as this is the #1 hardest reservation to book! Its also important to be flexible with which morning of your trip you would like to eat here.  Breakfast is an "all you care to eat" family-style meal.  Your server will bring back as many servings of the eggs, bacon, sausage, fruit, yogurt, pastries, waffles, and french toast as your family would like throughout your meal.  You will also meet Cinderella, her Fairy Godmother and various other (often changing) princesses and princes.  You can expect to meet and greet with 4-6 characters during this breakfast.
Cinderella's Royal Table will take two table-service credits on the Disney Dining Plan and prices for 2011 range from $45-55 for adults and $30-34 for kids (prices go up a few dollars as you move from breakfast to dinner).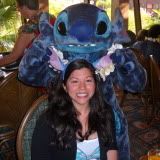 Melissa has created Chip & Company's 'Guide to Walt Disney World: Restaurant & Snack Options' posts as well as chronicling her Disney baking (and cooking) exploits In the Kitchen. She also writes original articles about her experiences visiting Walt Disney World and finding Disney magic in her home state of New York. Melissa is a World History teacher and you can find her on tumblr. Oh & you should probably know she believes in fairytales.