Tangierine Cafe
When you are standing in most any part of World Showcase, you can see the minaret towering above the main building in the Morocco pavilion.  Typically, a minaret is a part of a mosque, a high tower that has some sort of balcony or opening so that a Muslim crier can summon worshippers to pray five times daily.  In the case of the Morocco pavilion in Epcot, the minaret is a piece of architecture, not a holy place,  simply a tower that summons visitors to the park to come and enjoy the vibrant culture of the Middle East everyday.
The shops here carry authentic goods and a world music band Mo Rockin', delights guests with sounds multiple times a day.  While enjoying your day at the World Showcase and in the Morocco pavilion, an excellent choice for a refreshment and meal is Tangierine Café.  Since many people are unsure as to whether they would enjoy the tastes of  Middle Eastern cuisine this is a great place to start.
You can enjoy wraps (such as Lamb with Couscous and Lentil), salads (such as Tangierine Couscous Salad), sandwiches (such as Chicken Shawarma with hummus on fresh Moroccan bread), and Mediterranean platters here.  There is also a coffee bar (which both serves coffee and other hot beverages as well as being a pretty well stocked bar).  My suggestion: the lamb wrap and a Tangierine cocktail.
This counter service restaurant is open during World Showcase's regular park hours, and accepts the Disney Dining Plan (except for alcoholic beverages) for lunch and dinner counter service dining.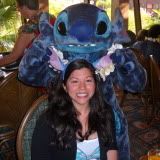 Melissa has created Chip & Company's 'Guide to Walt Disney World: Restaurant & Snack Options' posts as well as chronicling her Disney baking (and cooking) exploits In the Kitchen. She also writes original articles about her experiences visiting Walt Disney World and finding Disney magic in her home state of New York. Melissa is a World History teacher and you can find her on tumblr. Oh & you should probably know she believes in fairytales.