Les Chefs de France
When you enter the France pavilion in World Showcase, it is hard not to be swept up in the romance of Paris, even my memories of this pavilion have the sweet sounds of French accordion music in the background and smell like delectable pastries.
When you visit the only attraction here, Impressions de France, you get to take a look at a short film (roughly 20 minutes) that lets you take a trip through the most beautiful and majestic sites in the nation.  Although this is not a circle-vision film like other World Showcase pavilions have, it will take your breath away from the songs intro (where you will here hints of the music from the prologue of Disney's Beauty and the Beast) to the views of Versailles, the Alps, and of course the Eiffel Tower to name a few.
After you have immersed yourself in the ambiance and culture to be found in the pavilion, what is left but to sample the cuisine?  Les Chefs de France is a perfect choice for all.  While the food here is authentic French (and many ingredients are imported directly from France) the sauces are a little lighter and the menu seems to accommodate to a diverse range of tastes.
When you first enter Les Chefs de France, sunlight floods through the windows and rich yellows and light browns seem to soften the light and set a delightful mood.  If you dine here at prime dinner hours you may even have a visit from a pint-sized Pixar star.  Remy of Pixar's Ratatouille makes occasional appearances at dinner here most nights.  Look for him to be rolled out on a fruit and cheese cart.  The audio-animatronic rat/chef is hidden under a dome-topped platter and stops at each table.
Les Chefs de France is currently on the Disney Dining Plan and takes one table service credit.  It is open for lunch and dinner, and books up quick so it is recommended to book early!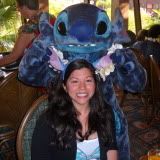 Melissa has created Chip & Company's 'Guide to Walt Disney World: Restaurant & Snack Options' posts as well as chronicling her Disney baking (and cooking) exploits In the Kitchen. She also writes original articles about her experiences visiting Walt Disney World and finding Disney magic in her home state of New York.  Melissa is a World History teacher and you can find her on tumblr. Oh & you should probably know she believes in fairytales.