Le Cellier
There is so much fun tucked into the Canada pavilion at Epcot's World Showcase it is easy to imagine oneself meandering around here for an entire afternoon.  Besides viewing the Circlevision 360 film "O Canada!" or visiting the shop here, you can also walk through Victoria Gardens, inspired by Canada's own Butchart Gardens in British Columbia.  Not to mention, stopping to watch and take some pictures of the Canadian Rocky Mountain, which can be found near the hotel.  Look for the waterfall and mine here too!  There are other fun picture spots here like the totem polls and watching "Off Kilter" the celtic style band that frequents the area.  The main building here, Hotel du Canada, is modeled after Chateau Laurier in Ottawa and its lower level houses the only restaurant in the pavilion.
Le Cellier may be the hardest reservation to get in all of Epcot. It often books up on the earliest reservation window of 180 days out!  Tucked literally in a "cellar" this restaurant was named for ancient wine cellars and pulls off a cozy and rustic feel with ease.  The stonewalls and stained glass are accented by lantern light.
It is easy to see why this is a favorite among Epcot park-goers from the moment your bread is placed on your table to the last few scrapes of your fork across your dessert plate.  Hearty Canadian foods fill the menu that is sure to offer something for everyone including salmon, beef, chicken, pork, duck, and even buffalo!  The cheese soup is a must as is the campfire smores dessert.  Somehow dining at Le Cellier is both fun and relaxing and both family-friendly and romantic.  Like so many World Showcase restaurants, it offers the slow down that most need after a day in the parks.
While the fare, ambiance, and courtesy of the staff make this a top notch restaurant, it seems Disney has picked up on the popularity.  As of March 1st 2011, Le Cellier will become a Signature Dining restaurant.  This will mean that people who take advantage of the Disney Dining Plans as part of their vacation package will have to give up two credits in order to dine here.  As of now, the menu and attire (no dress code) have not changed but check the Disney World website's fine print before making your future reservations.  A quick tip that seems more reasonable is that the lunch menu here, which is also delicious, will remain just one table service credit.  This seems like a more economical and realistic option for most people so look for lunches to book up here fast as well!
Menu:  Lunch Prix-Fixe Lunch Dinner Drinks Kids Dessert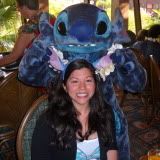 Melissa has created Chip & Company's 'Guide to Walt Disney World: Restaurant & Snack Options' posts as well as chronicling her Disney baking (and cooking) exploits In the Kitchen. She also writes original articles about her experiences visiting Walt Disney World and finding Disney magic in her home state of New York.
Melissa is a World History teacher and you can find her on tumblr. Oh & you should probably know she believes in fairytales.