La Hacienda de San Angel
When you enter Epcot's World Showcase it is hard to ignore the temple-pyramid standing strongly to the west. An immense structure, this is actually modeled after an actual Aztec temple which could be found at their capital of Teotihuacan. As if this area is not entertaining enough, with the flavored Margarita stand, and frequent shows from the Viva Mexico band, there are even two new restaurants to tempt your palate! Housed together, La Cantina de San Angel, a quick service restaurant, and La Hacienda de San Angel, a table service restaurant, offer gorgeous waterfront views. La Hacienda opens at 4pm and is surely a prime location for Illuminations viewing.
While the Cantina got a complete facelift the addition of La Hacienda has given visitors another great restaurant option for Mexican fare in Epcot. Nestled along the lagoon, La Hacienda can seat 250 guests and upon entering you feel as if you are visiting a friend's home in the Mexican countryside. The ambiance is friendly and the building gives off an Old World feel.
There is something for everyone their menu, which includes samplings of all different varieties of Mexican cuisine. If you are interested in splitting your meal with a friend or sweetheart, their Parrillada menu offers both a seafood themed platter or a chicken and steak combo which are sure to appeal to any couple (both include a mixed grill entrée, vegetables, beans and fresh salsa).
With spectacular views, delicious cuisine, and an atmosphere as inviting as a family fiesta La Hacienda is a welcome new part of Epcot's World Showcase.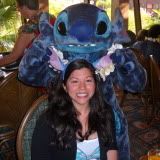 Melissa has created Chip & Company's 'Guide to Walt Disney World: Restaurant & Snack Options' posts as well as chronicling her Disney baking (and cooking) exploits In the Kitchen. She also writes original articles about her experiences visiting Walt Disney World and finding Disney magic in her home state of New York.  Melissa is a World History teacher and you can find her on tumblr. Oh & you should probably know she believes in fairytales.