La Cava de Tequila
As you enter Plaza de Los Amigos, the lively marketplace inside the Mexico pavilion you may be overwhelmed with all there is to see and do! Towards the back you can enjoy authentic Mexican food at the pavilion's anchor restaurant San Angel Inn, nearby you can experience one of the most overlooked and underrated attractions in all of Epcot, Gran Fiesta Tour with the Three Caballeros. (This boat ride, which rarely has longer than a five-minute wait, is more than just a tribute to the 1944 live action/animated film. As you ride through the River of Time, you view scene after scene of Panchito and Jose Carioca, as they search for the final member of their trio: Donald Duck! You join the boys for a fun journey through some of the most amazing cities and sights in Mexico.) Believe it or not, when you have had your fill of eating, riding, and shopping there is STILL more to experience.
La Cava de Tequila, opens daily at noon and offers over 70 types of authentic tequila, which range in price from $8-$50. Also on the menu are a variety of new and unique margaritas. Various tostadas and dipping sauces are also available to munch will you sample the incredible selection in La Cava. Another notable addition, a "Tequila Ambassador" whose purpose is to help educate guests on the rich heritage and history of tequila-making in Mexico. La Cava is open until park closing daily and can seat 30 guests.
It is easy to fall in love with Epcot's World Showcase. There is so much to do and see… and where else can you travel around the world in one afternoon? With so much attention to detail the Mexican pavilion pays tribute to the vibrant culture of Mexico and is not to be missed on your next visit!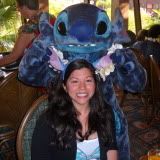 Melissa has created Chip & Company's 'Guide to Walt Disney World: Restaurant & Snack Options' posts as well as chronicling her Disney baking (and cooking) exploits In the Kitchen. She also writes original articles about her experiences visiting Walt Disney World and finding Disney magic in her home state of New York.
Melissa is a World History teacher and you can find her on tumblr. Oh & you should probably know she believes in fairytales.