Biergarten
When you step through the doors of the Biergarten restaurant in Epcot's Germany pavilion you will feel more like you stepped straight into Oktoberfest in a quaint German village.  Judging by the name of this buffet, I would say that was just the plan of the Imagineer's who designed it! Biergarten translated literally means beer garden and refers to an "open-air area where beverages, preferably beer, and food are served".  In Germany, this would be an outdoor area attached to a pub or beer hall.  The outdoor area makes it easier for the establishments to accommodate for large numbers of guests.
The food at Biergarten is just as hearty as the atmosphere, featuring classic German dishes as well as more well-known entrees like sauerbraten, weinkraut, and bratwurst.  There is also a salad bar and delicious desserts are included in your meal price (this is a set price of $25 for lunch and $35 for dinner).
Biergarten opens at noon for lunch and closes briefly between lunch and dinner hours.  It is one table service credit on the Disney Dining Plan, and reservations are suggested, although you can often squeeze in here a few months or weeks out.
Menu:  Drinks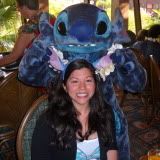 Melissa has created Chip & Company's 'Guide to Walt Disney World: Restaurant & Snack Options' posts as well as chronicling her Disney baking (and cooking) exploits In the Kitchen. She also writes original articles about her experiences visiting Walt Disney World and finding Disney magic in her home state of New York. Melissa is a World History teacher and you can find her on tumblr. Oh & you should probably know she believes in fairytales.
When you believe in a thing, believe in it all the way, implicity and unquestionably. -Walt Disney