Yak and Yeti
Yak and Yeti is the name of both a counterservice and a sit down restaurant in Animal Kingdom's Asia section.  Many reviews I have read of the sit down restaurant claim this is the best Asian food to be found on-property, rivaling the restaurants in Epcot's China and Japan pavilions.
Inspired by Nepal, the Yak and Yeti restaurant makes a nice addition to the Expedition Everest area of the park, located right near the famed mountain coaster.  This restaurant does seem to book up quick for dinner so make your reservations early! And remember it will take one table service credit on your Disney Dining Plan.
For just a small taste of Nepal, you can go to the walk up counterservice that is adjacent to the main restaurant.  Serving a small sampling of the food to be found in the main restaurant there is seating outside and the Café also participates in the Disney Dining Plan.  Both Yak and Yeti locations are open for lunch and dinner.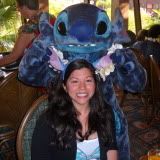 Melissa has created Chip & Company's 'Guide to Walt Disney World: Restaurant & Snack Options' posts as well as chronicling her Disney baking (and cooking) exploits In the Kitchen. She also writes original articles about her experiences visiting Walt Disney World and finding Disney magic in her home state of New York. Melissa is a World History teacher and you can find her on tumblr. Oh & you should probably know she believes in fairytales.