Main Street Bakery
" src="http://www.chipandco.com/wp-content/uploads/2011/07/162-400×300.jpg" alt="" width="400″ height="300″ />
The Main Street Bakery, located in the heart of Main Street USA is a fan (and Chip & Co) favorite.  No matter what confection you are after this is the place to find it! Cakes, cookies, cupcakes, muffins, and other sweet treats fill the shelves here (and the smells fill the air along the street)!  Stop in for a snack of delicious Disney breakfast and a cup of coffee!
Have a craving for a Main Street Bakery Candy Apple at home? Check out the Disney Recipe here! And don't forget to check out our own In The Kitchen recipe posts!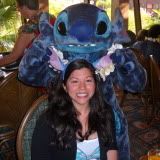 Melissa has created Chip & Company's 'Guide to Walt Disney World: Restaurant & Snack Options' posts as well as chronicling her Disney baking (and cooking) exploits In the Kitchen. She also writes original articles about her experiences visiting Walt Disney World and finding Disney magic in her home state of New York. Melissa is a World History teacher and you can find her on tumblr. Oh & you should probably know she believes in fairytales.