Liberty Tree Tavern
Located in Liberty Square, Liberty Tree Tavern used to house a character meal which featured Minnie in Friends in their best colonial outfits.  Now, the theming remains without the character dining experience.  The interior mimics something you would have found in a tavern during the late 1700s in one of the 13 original colonies! There are early America mementos all around, the like that our four fathers may have had in their own colonial homes.
Lunch is served from an a la carte menu that includes pot roast, turkey, and even New England Clam Chowder.  Dinner is a family affair here- literally.  Dinner is served all-you-care-to-eat in Disney's traditional family style.  Expect Thanksgiving favorites like turkey breast, carved beef, mashed potatoes, and macaroni & cheese.  Sponsored by Stouffer's most sides are made by the company.
Note: Although the name is deceiving, remember that Magic Kingdom is a dry park and you won't find any alcoholic drinks in this tavern.
Photo Credit: Brenda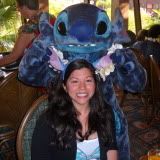 Melissa has created Chip & Company's 'Guide to Walt Disney World: Restaurant & Snack Options' posts as well as chronicling her Disney baking (and cooking) exploits In the Kitchen. She also writes original articles about her experiences visiting Walt Disney World and finding Disney magic in her home state of New York. Melissa is a World History teacher and you can find her on tumblr. Oh & you should probably know she believes in fairytales.