Garden Grill
Looking for a Character dining restaurant in Epcot?  One that might have last minute opening? Looking for a one of a kind experience?  A highlight to a possible afternoon in The Land pavilion? Look no further than Garden Grill! I was shocked at how easily we were able to get reservations for this character dinner featuring Chip, Dale, Pluto and the main mouse Mickey himself! All characters are dressed in their farm gear, which adds to the theme of this constantly moving restaurant.  The tables are set at two different tiers, which very slowly move through what seems to be America's different climate zones as you eat!  Don't worry, you can't feel the moving but it sure is fun watching what is up ahead!  From what I recall you dine through thunderstorms, rainforests, a prairie and a windstorm.
Besides the character interaction, which is great, and the setting being a perfect fit for the Land pavilion, the meals here are also fun.  Open for dinner only, meals are served family-style (big platters which are placed in the center of the table for all to enjoy and which servers refill the most popular parts of).  Salads here are Disney-grown, right in the hydroponic gardens in the Land.  Your meal price also includes drinks and dessert.
Why not grab some Fast Passes for Soarin', grab a meal at Garden Grill and then let your food digest with a quaint boat ride on Living with the Land?
Menu:  Lunch & Dinner Kids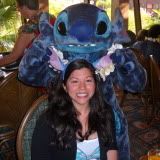 Melissa has created Chip & Company's 'Guide to Walt Disney World: Restaurant & Snack Options' posts as well as chronicling her Disney baking (and cooking) exploits In the Kitchen. She also writes original articles about her experiences visiting Walt Disney World and finding Disney magic in her home state of New York. Melissa is a World History teacher and you can find her on tumblr. Oh & you should probably know she believes in fairytales.