Electric Umbrella
With so many dining choices, both quick and full restaurants, available in Epcot it seems Electric Umbrella really only serves the purpose of convenience.  Located in Future World, specifically Innovations West, the quick service restaurant is open from 11am until sometime around an hour or so before park closing (time varies).  However, what seems average to some, looks to be a fan favorite for many!
Electric Umbrella serves the usually quick service fare.  Burgers, wraps, salads, and sandwiches make up most of the menu for lunch and dinner and the Disney Dining Plan is accepted here.  What is worth noting is that this is a good place to pick up a snack or two (fruit, desserts, and even water bottles can be used as snacks on the dining plan).
Aside from the obvious plus of the location (if you are hungry, or with hungry kids in this are The Land may seem like a long walk for lunch), Electric Umbrella looks really cool lit up at night. It is consistent and does have ample seating, which may be a blessing on a humid summer day or hot summer night!
Photo credits: Mary McHenry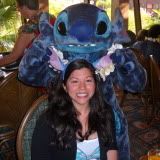 Melissa has created Chip & Company's 'Guide to Walt Disney World: Restaurant & Snack Options' posts as well as chronicling her Disney baking (and cooking) exploits In the Kitchen. She also writes original articles about her experiences visiting Walt Disney World and finding Disney magic in her home state of New York. Melissa is a World History teacher and you can find her on tumblr. Oh & you should probably know she believes in fairytales.