Tutto Italia
When you  first enter the Italy pavilion in Epcot's World Showcase you find yourself feeling as though you were transported to Venice itself. With classic architecture and the distinct attention to detail that Disney does best, the Italy Pavilion is an attraction unto itself.  Worth noting to visit here before or after you dine: the fountain of Neptune, and the replica bell tower of that found in St. Mark's Square.
As you make your way through the central plaza you will see entertainers, musicians, and an abundance of shops selling everything from clothing to jewelry to souvenirs.
When you enter the new restaurant in the Italy pavilion, Tutto Italia, you will immediately be taken aback by the decorations, there are murals and paintings from the classical period of ancient Rome, and the sparkle of chandeliers and lighting accents that make the room dazzle.
On the menu, guests will find something for everyone.  There are options for children and vegetarians as well as those who are connoisseurs of Italians cuisine.  The menu was created by  award-winning Joachim Splichal and it does not disappoint.  From your antipasto to your cannoli you will find every piece of your meal at Tutto Italia exquisite.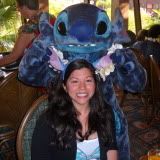 Melissa has created Chip & Company's 'Guide to Walt Disney World: Restaurant & Snack Options' posts as well as chronicling her Disney baking (and cooking) exploits In the Kitchen. She also writes original articles about her experiences visiting Walt Disney World and finding Disney magic in her home state of New York. Melissa is a World History teacher and you can find her on tumblr. Oh & you should probably know she believes in fairytales.