Teppan Edo
The large red-orange gateway, which marks the entrance to the Japan area of World Showcase in Epcot, may seem like a simple piece of cultural architecture.  When you look deeper into it's meaning, its relevance in this area of the park becomes clearer.  In the Shinto religion (and occasionally in Buddhism as well) this gate, also called a torii, marks the entrance to a shrine.  By walking through the torii one moves into a sacred and serene place.  Over time these torii have become a symbol of traditional Japan.
When you enter the Japan pavilion in World Showcase, everything seems to follow this same beat.  There is a feeling of serenity and peace when you walk by the koi pond or rock gardens.  There is shopping here as well as a gallery exhibit and a taiko drummer band playing occasionally.
In the largest building in the Japan area you will find Mitsukoshi's Teppan Edo restaurant. While it often gets overlooked, since people look at it and assume it is just another Americanized hibachi restaurant, this couldn't be further from the truth.  From the traditional building with the sleek lines of customary Japanese architecture outside to the crisp and clean feel inside, time-honored Japan is in every nook and around every corner.  Servers wear traditional Japanese clothes and your personal Teppan chef cooks authentic Japanese dishes right in front of you.  Take it from me- I adore "hibachi" and this is a meal not to be missed! And be sure to try the sake if you are twenty-one or older!
(If you are interested, the difference between hibachi and teppan-yaki is not the style of cooking, but instead the derivation of the word.  Hibachi, which is often how we, in America, refer to this style cooking, is actually the name for the iron plate that the food is cooked on, or a small stove that you could use at home for cooking.  Teppan-yaki is the actual style of cooking.  Teppan meaning 'hot plate' and yaki meaning 'pan-fried'.)
When I first visited this restaurant, my husband and I were seated with three other couples, so tables can comfortably seat eight people (there is more than one dining room here so they may be able to seat more in other areas or fit more around one of the tables we were at).  Our waitress was super attentive and sweet, even though we had a chef right there in front of us most of the night.  We had a great time, and felt that our chef went above and beyond to be not just preparing our food but putting on a little show.  It was very entertaining and lots of fun.  It was a great accent to the tradition and enjoyment that can be found in the Japan pavilion.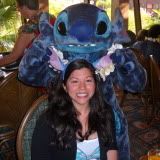 Melissa has created Chip & Company's 'Guide to Walt Disney World: Restaurant & Snack Options' posts as well as chronicling her Disney baking (and cooking) exploits In the Kitchen. She also writes original articles about her experiences visiting Walt Disney World and finding Disney magic in her home state of New York. Melissa is a World History teacher and you can find her on tumblr. Oh & you should probably know she believes in fairytales.