Rose and Crown Pub and Dining Room
If you are looking for a taste of traditional English pub fare, look no further than Rose and Crown Pub & Dining Room in World Showcase's United Kingdom pavilion.  British favorites like fish & chips, bangers & mash, and meat pies do not disappoint.  My favorite soup on property is the mushroom soup you can find here!
Rose & Crown is open for lunch and dinner and no matter where you sit you will be entertained.  Inside there is a piano player who will entertain with English songs and outside you have views of World Showcase lagoon, and if you time your dinner just right Illuminations.
If you are hoping to catch Illuminations, it is best to make your reservation at your 180 day out mark (or as close to it as you can) and be sure to request an outside seat upon arrival.  If you dine during colder months, the outside seating is often enclosed and tented in with heating lamps to keep restaurant-goers warm, so keep this in mind as well.
Be sure to grab a pint as this pub offers a wide variety of choices from both English ales, lagers, and stouts as well as other usual American favorites.
Menu:  Pub Lunch Dinner Kids Dessert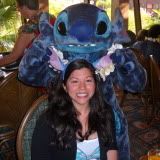 Melissa has created Chip & Company's 'Guide to Walt Disney World: Restaurant & Snack Options' posts as well as chronicling her Disney baking (and cooking) exploits In the Kitchen. She also writes original articles about her experiences visiting Walt Disney World and finding Disney magic in her home state of New York. Melissa is a World History teacher and you can find her on tumblr. Oh & you should probably know she believes in fairytales.