Lotus Blossom Cafe
When given the dining choice in the China pavilion in Epcot's World Showcase, Lotus Blossom Café would be my first choice.  Offering very similar selections to that of the larger restaurant in the pavilion, Nine Dragons, here you can save a few bucks while enjoying the outdoor atmosphere of the beautiful China pavilion.
The menu is somewhat limited but items here are all yummy.  The menu does sometimes change but there are always chicken, beef, and vegetable options for your main course, as well as potstickers, egg rolls, ginger ice cream (as well as a few other desserts) and hot and cold drinks.
Lotus Blossom Café opens at 11am (the same time World Showcase opens most days).  This is a great spot for lunch or dinner and accepts the Disney Dining Plan snack and counter service credits.
Photo credit: Matt at www.daddymatt.com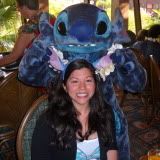 Melissa has created Chip & Company's 'Guide to Walt Disney World: Restaurant & Snack Options' posts as well as chronicling her Disney baking (and cooking) exploits In the Kitchen. She also writes original articles about her experiences visiting Walt Disney World and finding Disney magic in her home state of New York.  Melissa is a World History teacher and you can find her on tumblr. Oh & you should probably know she believes in fairytales.