Liberty Inn
For some reason, it seems like the American Adventure is the last place I think of to eat at World Showcase.  When I try to figure out why, I guess the main reason is that I am an American.  I can eat hot dogs, hamburgers, chicken nuggets, pulled pork sandwiches and side salads any day of the week at home- and I am pretty good at making all of the above, so why do it on vacation?  When passing by, I have sometimes even thought to myself how much more interesting a quick service restaurant it would be if it served authentic American colonial food.
Well its the extras that I overlook that make this eatery worthwhile, and may just be a savior for some people!  Liberty Inn offers both kosher and vegetarian options.  It also offers a fixins bar to dress up hamburgers and hot dogs (similar to the kind offered at Pecos Bill and Cosmic Ray's in Magic Kingdom).
And the last tip to remember, you can get a couple go-to items for children who are picky eaters here too: chicken nuggets and peanut butter and jelly sandwiches. If you are venturing into the American Adventure during mealtime this place is a good, quick choice with consistent meals!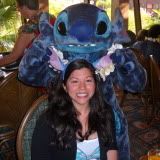 Melissa has created Chip & Company's 'Guide to Walt Disney World: Restaurant & Snack Options' posts as well as chronicling her Disney baking (and cooking) exploits In the Kitchen. She also writes original articles about her experiences visiting Walt Disney World and finding Disney magic in her home state of New York. Melissa is a World History teacher and you can find her on tumblr. Oh & you should probably know she believes in fairytales.