Picture the atmosphere: a quaint Parisian bistro not a far walk from the Eiffel Tower, a window possibly overlooking a magnificent fireworks display, and the romance of France in a quiet and quaint restaurant.  If you are looking for a place for an elegant and classic French menu Bistro de Paris is just what you are looking for.
It is located above Chefs de France but for couples it is a step above, not just a floor above the more family-friendly and mild menued restaurant below.  The bistro does not allow tank tops and reservations can be booked a month in advance.  It does not participate in the Disney Dining Plan currently and does not offer a kids menu.
Bistro de Paris does accomplish exactly what it seems to have set out to do.  Couples dining here will surely be strolling through the pavilion hand-in-hand when they leave as the small restaurant with the limited menu but extensive wine list seems to have love in the air.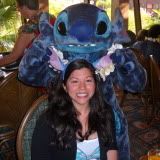 Melissa has created Chip & Company's 'Guide to Walt Disney World: Restaurant & Snack Options' posts as well as chronicling her Disney baking (and cooking) exploits In the Kitchen. She also writes original articles about her experiences visiting Walt Disney World and finding Disney magic in her home state of New York. Melissa is a World History teacher and you can find her on tumblr. Oh & you should probably know she believes in fairytales.
---
 Are you a Disney Addict? Stand up and be counted! Join our Facebook Group -
You Might Be a Disney Addict
or #ymbada for short. Share your love of Disney with other like minded individuals. If you have questions be sure to stop by our
Disney Addict Website.
Here you can ask Disney World, Disneyland or any other travel related question. There is no question too big or too small!