Akershus
With Cinderella's Royal Table being the most coveted meal reservation in all of Disney World, most first time visitors to Akershus in Epcot's Norway pavilion, come upon the restaurant as a back up plan or second choice.  It is not until you eat here that you come to love it for what is so different and special about it.
Your princess storybook dining experience begins with meeting none other than Belle herself.  While there is speculation that Akershus will be getting a new host (I have seen possibly Aurora of Sleeping Beauty fame, or Snow White both hypothesized to be the new host) because Belle will have a new area and home in Magic Kingdom's Fantasyland expansion, there have been no official announcements made.  When you check into your reservation you are mainly waiting outside but as soon as you are called by your hostess you are ushered into an alcove where Belle is waiting in her golden yellow ball gown to meet, greet, and take pictures with you.
Once you are seated you are given menus and directed to the appetizer buffet, which mainly seems to consist of cold salads, deli meats and cheeses, and some seafood dishes.  After you are ready to order the menu offers a nice variety of choices.  There are a couple traditional Norwegian dishes, and then a selection of other dishes that include steaks, seafood, and chicken.  Servings are large and dinner is filling here, although you can also dine with the Princesses at lunch and breakfast as well!  The dessert menu changes occasionally and the wine and drinks are some of my favorites at Epcot so don't skip this section of the menu!
One thing to take note is that, besides Belle, there is really no guarantee on which princesses you will meet here.  Sometimes I have even heard that Cinderella, and not Belle, has been the Princess at the door.  For the most part it seems that there are four to five beautiful heroines making rounds through the restaurant including: Belle, Aurora, Jane, Jasmine, Ariel, Snow White, Mary Poppins, Mulan, or sometimes Cinderella.  Your meal price included a photo package, which is always a plus.  All in all, what more could you ask for than a dinner is filled with good food, great drinks, and Disney royalty?
Menu:  Lunch & Dinner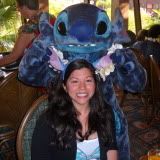 Melissa has created Chip & Company's 'Guide to Walt Disney World: Restaurant & Snack Options' posts as well as chronicling her Disney baking (and cooking) exploits In the Kitchen. She also writes original articles about her experiences visiting Walt Disney World and finding Disney magic in her home state of New York. Melissa is a World History teacher and you can find her on tumblr. Oh & you should probably know she believes in fairytales.
When you believe in a thing, believe in it all the way, implicity and unquestionably. -Walt Disney