Raglan Road
One of Ireland's most world-renowned chefs, Kevin Dundon created the menu for Raglan Road, Disney World's authentic Irish pub located in Downtown Disney's Pleasure Island.  Here you will find fabulous drinks, delicious food, and a night's worth of entertainment.  Expect traditional Irish food with a modern twist which will surely leave something for everyone! Menu items include Fish & Chips, Shepard's Pie, as well as sandwiches, salads, burgers, and chicken and seafood dishes.
Raglan Road accepts the Disney Dining Plan table service credits and you can make reservations as early as 180 days before your trip for lunch or dinner here!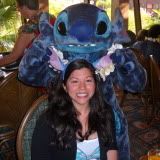 Melissa has created Chip & Company's 'Guide to Walt Disney World: Restaurant & Snack Options' posts as well as chronicling her Disney baking (and cooking) exploits In the Kitchen. She also writes original articles about her experiences visiting Walt Disney World and finding Disney magic in her home state of New York. Melissa is a World History teacher and you can find her on tumblr. Oh & you should probably know she believes in fairytales.