Fulton's Crab House
Fulton'a Crab House is your go to for fresh, daily imported seafood dishes.  Named for the creator of the steamboat himself (Robert Fulton) this restaurant is housed in a riverboat on Village Lake.  While the menu changes based on the fresh fish on hand expect to see various crab, lobster, shellfish, and other seafood dishes as well as chicken and steak dishes.
There is lounge here also that makes for a nice waiting area while you wait for your reservations.  Be aware, however, golfers around the Disney resorts tend to flock here after completing their 18 holes for a drink or two.  Also, Fulton's is rather pricey and can be considered of Signature Dining caliber but does not accept Disney Dining Plan credits.
Also, worth noting, especially if you will be eating around sunset- there is seating on the top deck!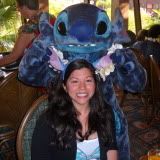 Melissa has created Chip & Company's 'Guide to Walt Disney World: Restaurant & Snack Options' posts as well as chronicling her Disney baking (and cooking) exploits In the Kitchen. She also writes original articles about her experiences visiting Walt Disney World and finding Disney magic in her home state of New York. Melissa is a World History teacher and you can find her on tumblr. Oh & you should probably know she believes in fairytales.