Cap'n Jack's Restaurant
I am almost hestitant to post about Cap'n Jack's.  There is a part of me that wants to cherish it and keep it safe and un-noticed, a pier-house and restaurant in one sitting right on the lake.  Instead, I feel I owe it to the loyal C&C readers to share the jewel of Downtown Disney dining.
When you walk into Cap'n Jack's it is immediately apparent why the name is so casual.  There is heavy wood and copper accents in this restaurant, where seating circles the bar and most every seat is near a window.  As you eat the sunshine warms you through the slats of the blinds and if you time it just right you can see the sunset over Village Lake.  It is comfortable and comforting to enjoy a meal here and the food and service are worth noting.
Appetizers and entrees offer something for everyone with options like clam chowder, spinach and artichoke dip, and various steak and seafood dishes (we had excellent lobster here in 2008).  Reservations can be made in advance (and are recommended for dinner here, especially at busy times) and Cap'n Jack's accepts the Disney Dining Plan.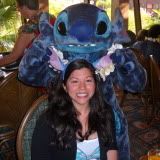 Melissa has created Chip & Company's 'Guide to Walt Disney World: Restaurant & Snack Options' posts as well as chronicling her Disney baking (and cooking) exploits In the Kitchen. She also writes original articles about her experiences visiting Walt Disney World and finding Disney magic in her home state of New York. Melissa is a World History teacher and you can find her on tumblr. Oh & you should probably know she believes in fairytales.