Tusker House
Tusker House restaurant, located in Animal Kingdom's Africa, has a lot to offer park guests.  Start the day here with a Character breakfast featuring Donald Duck and friends donning their best safari gear! This is the only character meal in this park and has become a quick fan favorite.
For lunch and dinner Tusker house continues to be sit down restaurant featuring an African-inspired buffet that rivals Boma.  You can also reserve the "Finding Nemo Package" which offers priority seating at a post-dinner showing of Finding Nemo: The Musical.  While I have not booked this package we have done the Fantasmic Dining Package and it can be nice and convenient not having to worry about seating at such popular shows.
Since Tusker House has re-opened (it was a counterservice restaurant before the rehab) it has been very busy and reservations for breakfast especially book up fast.  I would recommend booking at the 180 day window if you know you want to add this to your to-do list on your next visit to Disney's Animal Kingdom park!
Have a craving for the Curried Chicken Salad at home? Check out the Disney Recipe here! And don't forget to check out our own In The Kitchen recipe posts!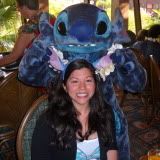 Melissa has created Chip & Company's 'Guide to Walt Disney World: Restaurant & Snack Options' posts as well as chronicling her Disney baking (and cooking) exploits In the Kitchen. She also writes original articles about her experiences visiting Walt Disney World and finding Disney magic in her home state of New York. Melissa is a World History teacher and you can find her on tumblr. Oh & you should probably know she believes in fairytales.