Pizzafari
Located in Animal Kingdom's Discovery Island area on your way to Africa, Pizzafari is a little hidden secret where you can often find a nice seat inside to eat and short lines for lunch.  During busy seasons this can crowd up but overall does not seem as popular as the other restaurants in Animal Kingdom.  I think this could possibly have to do with location since so many people make their way through the Discovery Island trails on their way in and then end up coming back to the hub from whatever area they ended up in.
Regardless, Pizzafari is a counterservice restaurant on the Disney Dining plan that offers pizza, hot sandwiches, breadsticks, salads, and various drinks.  The food is good and usually made fresh when you order and the service is also right up to Disney caliber.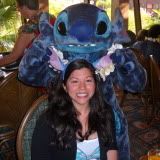 Melissa has created Chip & Company's 'Guide to Walt Disney World: Restaurant & Snack Options' posts as well as chronicling her Disney baking (and cooking) exploits In the Kitchen. She also writes original articles about her experiences visiting Walt Disney World and finding Disney magic in her home state of New York. Melissa is a World History teacher and you can find her on tumblr. Oh & you should probably know she believes in fairytales.