Kusafiri Coffee Shop and Bakery
If you are looking for a breakfast variety head into Africa to Kusafiri Coffee Shop and Bakery.  Here you will find various baked goods like muffins, bagels, danishes and other bakery fare.  The coffee and other hot beverage selection usually includes tea and hot cocoa here as well as a variety of cold beverages.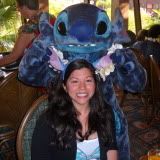 Melissa primarily writes Chip & Company's Guide to Walt Disney World. She also chronicles her Disney baking (and cooking) exploits In the Kitchen. She also writes original articles about her experiences visiting Walt Disney World and finding Disney magic in her home state of New York. Melissa is a World History teacher and you can find her on tumblr. Oh & you should probably know she believes in fairytales.